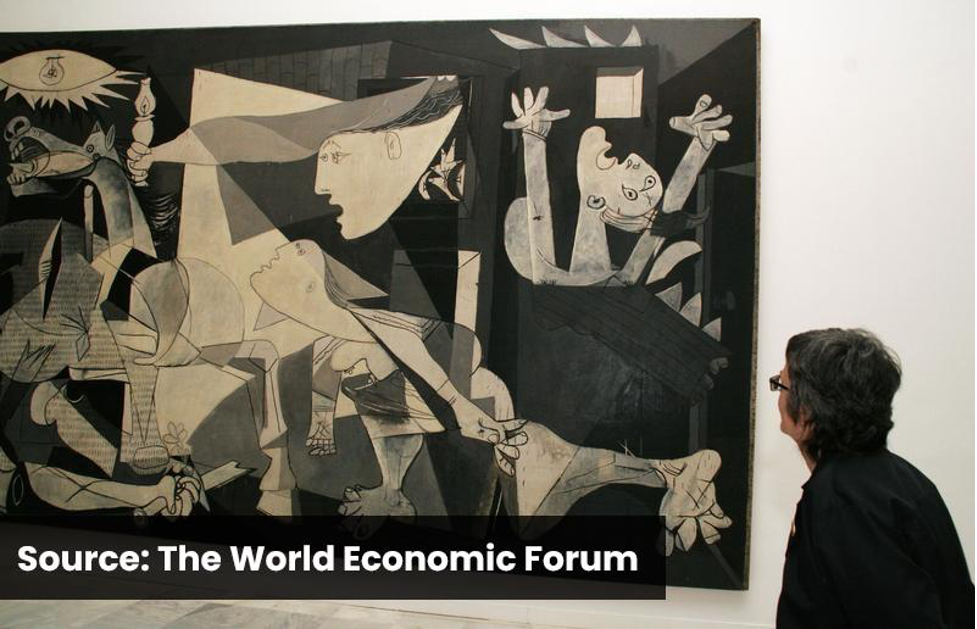 Written by Vipin Sabu
'Satyameva Jayate', and 'Bharat Mata Ki Jai' are all slogans which are widely popular among Indian citizens and used by political parties and non-political parties alike. The success of these slogans lies precisely in their nationalistic yet secular nature, but who came up with these popular slogans? How impactful were these two or three words in propelling the independence movement and creating a sense of unity among the minds of people?
Ever since the time of human civilization, the arts and literature have played a crucial role in building and strengthening society. Works of art and literature are still held as symbols of status and influence, they have contributed immensely in uniting people and pointing out the evils of society. Additionally, governments and individuals around the world have also used art and literature to fuel hatred and propaganda. Such is the role of the arts in bringing change.
Let's look at a relatable example of the same; novels, songs, paintings and journals were all important factors which helped India unite against the British and fight for independence.
A very famous example of this is the idea of 'Bharat Mata' or Mother India, which grew to be a national personification of India. Bharat Mata was first introduced in 1873 by Kiran Chandra Bandhopadhyay in a play of the same name. It was Bankim Chandra Chatterjee's novel 'Anandamath' that introduced 'Vande Mataram, a hymn that became the clarion call for Indian independence, in 1905 Abanindranath Tagore, the nephew of Rabindranath Tagore, painted the first representation of Bharat Mata as a Hindu goddess with four arms. From then on, the image of Bharatmata became an icon for creating nationalistic feelings among Indians during the freedom struggle.
Later journals and newspapers came up to be an important medium of communication to the masses, Mahatma Gandhi used to regularly put out his views to the masses through his journals Young India, Navjeevan and Harijans. Other popular journals include Kesari by BG Tilak, Mook Nayak by Amedkar, and Hindustan Dainik by Madan Mohan Malviya.
Rabindranath Tagore, the first Indian to receive the Nobel Prize for Literature, was another man who made a significant contribution to the freedom struggle through his writings. Tagore's writings were well-known around the world, and his decision to reject the knighthood served as a symbol of defiance, inspiring others to believe in the cause of freedom.
These are major ways through which freedom fighters used words and arts to create unity among people and build a vision of an India independent of foreign control. These mediums turned out to be crucial for organizing masses and bringing change, which is still relevant to this day. 'Bharat Mata ki Jai' is still a slogan used by people and political parties alike. The idea of a national anthem is also such an example, especially in a diverse country like India, elements like a national anthem and a national flag contribute to building a national identity. All the citizens regardless of language, class and caste will proudly sing the national anthem as it instills a feeling of belongingness.
There are other several examples of such instances where a song or a line from a novel, a movie has been used as an element connecting the masses, a recent example of this was how student organizations across the country used the Nazm (a genre of urdu poetry) 'Hum Dekhenge' by Faiz Ahmed Faiz as a symbol of protest against CAA-NRC. The use of the same poem became controversial when the students of IIT Kanpur on December 17, 2019, recited it during their gathering in support of the students of Jamia Millia Islamia, Delhi who were assaulted by the police during their anti-Citizenship (Amendment) Act agitation. Later, a panel was set up to decide whether the poem was anti- Hindu or not.
'Hum Dekhenge' however is an Urdu Nazm written during General Zia-ul-Haq's oppressive martial law regime, when it was dangerous to talk too directly. So, parts of the poem use traditional Islamic imagery, which was mistaken to be anti-Hindu but it was used to attack Zia's dictatorship and restore democracy. Faiz Ahmed Faiz was a lifelong communist, known to include pluralist and revolutionary themes in his poems.
So are the ways in which art and literature can act as a powerful force to unite people and inspire change. This is why democracy should nurture artists and creativity as they are essential to human interaction and are covered by our fundamental right to freedom of speech and expression. Furthermore, with the rapid growth of social media, there is more opportunity for the youth of the nation to express themselves, not just through words or tweets, but through art, poems, stories, photographs and films, all of these acts as a viable medium to inspire change.